Finally I have put together some pictures of Yosemite. I had so much fun. I have been going up to Yosemite since before I was born (my poor mother slept in a tent at 8 months pregnant!) and have rarely missed a trip. This year was truly one of the best times ever. My boys are at their happiest when outside, and camping=outside all.the.time. So perfect.
Here is Eli going for a run. So funny, trying to copy Tae.
The river was so full this year. The rapids were great but it was freezing!! It felt like the snow had just melted 10 minutes up river. And in the spirit of relaxing, we decided to jump in and freeze our bootie patooties off. I think the award goes to husband when he was one of the first to jump in all his Bahamian-ness.
Tae's got a little karate chop going on in the first pic
I was shocked at my little man who threw on a life vest and went down by himself!! He is so brave (sometimes), I love it! Despite it being freezing, it was still refreshing and we had a wonderful day there.
We actually got to go to Yosemite Valley this trip. I have been before, but I don't remember when was the last time. So this was really neat to show Lavar and the kids such a beautiful place. Even Lavar was impressed, and that takes quite a bit!
Just incredible! You can truly see God's majesty here!
This picture cracks me up. Eli took some hot chocolate
(No, I don't give my kids coffee. You crazy?! They don't need any more energy!)
and was walking around the campsite with it. I, of course, followed him around with a camera and got this shot.
Handsome camper-boy.
We have pictures of me using the same bath when I was a kid. To say that my dad likes tradition is an understatement. We also have pictures of Tae in the same bath at that age.
Tae Yosemite 2008
Eli Yosemite 2011
This next picture makes my heart melt. And laugh, a little, as Tae is putting his arm around Eli and Eli is pushing Tae. Oh my boys. What a beautiful picture though, right? I mean the trees and river behind them, beautiful sunny day. This is summer to me.
And I started thinking, what does summer look like to you? I would love to know, because every person and family are so different and unique in their own ways, of course summer would look different to different people. And I don't know about you guys, but I am always looking for new things to do!
So then came my idea! (with the help of my dad, actually!) I am going to host a photo contest! This Friday I am going to host a linky. I want you all to make sure you come back and link up a post with your favorite summer photo. What embodies summer for you? Then I am going to take the top three summer photos and have everyone vote for their favorite!! The winner will get to host this lovely button on their blog and a month of free advertising from me! I will also be promoting this on my Facebook and Twitter accounts, so this would mean exposure!
So I hope that you all come back Friday to link up your summer photos. Just write a post with one picture in the post and tell his what summer means to you. If you already have a post, you can link that one up too. Easy peesy! Feel free to grab the button if you want to participate!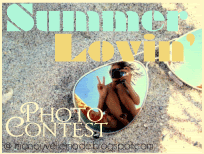 Have a great day!