Do you sit at your computer sifting through picture after picture, pinning away with grand dreams of creating each and every project you just pinned?
Do you need an outlet, a reason to make these projects? An inspiration to create?? Well it's time to get up, turn off your computer, and get to work! After you pinned that last pin of course!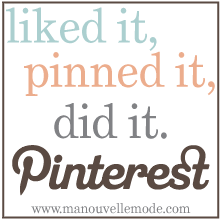 Pinterest has a wealth of information posted by very creative people. Some people are super creative and can think of these things on their own. And some other people, like me, need inspiration. We need someone to do it first so we can try our own interpretation of it. So unlike other link up parties where you link what you like on Pinterest, we are going to link what you have done because of Pinterest!
Here is my example:
Pinterest inspiration ~

My take on it ~
What do ya think??
So, here's the rules:
1.) Make sure you know where the picture for inspiration is coming from. It is someone's work and you should ask permission to use it in the blog post and give credit where it is due!
2.) Link the post URL, not your blog's.
3.) Add the linky button somewhere in the blog post and in your linky bar. Parties are more fun with more people!
4.) No link and leaves! Check out at least two other posts that catch your eye and share some comment love!
5.) I would love if you were following me! (totally don't have to, but I love new friends!)
So link it up! You can link anything from recipes, hair, style, crafts, DIY projects whatever! Show your Pinterest inspiration and your interpretation of the project. You never know, yours could get pinned too! Link as many as you want. I can't wait to see what you have all created!