Hello all!
I am feeling a little better about this party because all over bloggy land I am seeing people do what they pin! Now just to get them to link them up! I also found a party over at Cami's blog,
All Things Lovely
, and it is pretty much the same thing. So her and I might be hosting together next week! No different for you all, just link up where you normally would and it will go to both blogs=more traffic for you=more reasons to link up! Voila!
So my mom, being the awesomest mom that there is, saw
my tweet
(yes, she's awesome and
she's on twitter
) that people weren't linking up to my little party. And like all moms do, she felt bad for her little baby, no one was coming to her party!! :( So she went out and did something she pinned and sent it to me! Gosh, I love my mom. Now my party is awesome, because my mom's here. That's how it works right?
Here is her creation:
She did that. Like, with her own handwriting. That artistic ability must skip generations, because I most certainly couldn't do that. And I'm totally pinning it.
There were 19 link ups last week! Here are the top 3 hits from last week.
How cute is she? Chatting on the phone??
Incase you're wondering, my Pinterest inspired project was posted yesterday. And yes,
it was a hairstyle
. I might need to branch out a bit...
Now last week I forgot to put up the button to have on your posts or linky pages. Some of you super awesome people put my button on the post to say you were linking and I would like to say thanks! If you didn't, shame on you. Totally kidding! But just incase this is your first time around these parts, here are my 'rules.'
1.) Make sure you know where the picture for inspiration is coming from. It is someone's work and you should ask permission to use it in the blog post and give credit where it is due!
2.) Link the post URL, not your blog's.
3.) Add the linky button somewhere in the blog post and in your linky bar. Parties are more fun with more people!
4.) No link and leaves! Check out at least two other posts that catch your eye and share some comment love!
5.) I would love if you were following me! (totally don't have to, but I love new friends!)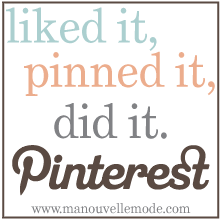 Can't wait to see what's inspired you this week!