Happy Monday everyone!
Today I have a yummy summer recipe for you. A couple of weeks ago, Jacqueline from
Chez Mukweto
asked me if I would like to participate in a little summer series. I always love to participate in series of any kind so of course I said yes! I had to come up with a great summer recipe to share with you all, and it just so happened that I had made this salmon dish a few nights before she asked me
and
took pictures! How easy! And you are going to love how easy the dish is.
I bought this salmon at costco. I don't know if there are better places or anything, but it was good. So here is the recipe:
Sprinkle a little bit of kosher salt and pepper over the salmon. Rub chilli powder all over the salmon. Broil on high for 8-10 minutes. That. is. it.
With little to no effort you can pair it with some brown rice and a veggie of your choice and dinner is on the table in less than 30 minutes. I mean, what mom doesn't want to hear that, specially during the summer?!
Even my little guys enjoyed it. Seriously, they both chowed the whole thing down.
We love meal time!!
Wow, he looks like he loves it... I promise he did, that plate was clean!
I know brown rice is a healthier choice, but I didn't have any, so I went with the white. It was fine for my boys and husband, but I just left it out and it was still plenty of food.
I love creating healthy dishes that my boys will eat. It makes me feel like I did something right as a mom when they eat a big healthy meal. And let me tell you,
they can eat.
So I am the first day of this wonderful series!!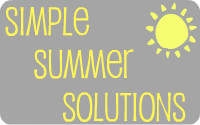 Tomorrow will be over at
The ArtsyGirl Connection
.
Wednesday will be at
Tracy Cooks it Right
Thursday will be at
Chez Mukweto
And each blogger will be sharing an awesome summer recipe and maybe a few other pointers to enjoy our summers! So make sure you check back!
Then on
Friday
is a link party you all can link up your
summer solution
! Whether it is something fun you do with your kids, or how to beat the heat, or even a scrumptious recipe, please join in!!
I hope you all had a beautiful weekend and are having a great Monday!!