As most of you know, or can see, my blog is relatively new. I am so glad I started it because I have been
blown away
with the amount of inspiration out there from so many talented ladies. As much as I love linky parties and getting to know new bloggers (or new to me) I don't really care for the "I'll follow you if you follow me" type of deal.
So I was thinking through what kinda linky party I could host and I asked my lovely (but not so creative) husband for his opinion. He said 'I don't know, like project Monday?' Not the most mind blowing, but it got me thinking. And anyone who knows me can attest, it can be a dangerous thing! I then came up with

"Projects in Progress!"
I am hosting a linky party for all bloggers out there. DIY, fashion, house decor, food, you name it! Here is how it will work. Every Monday morning I will post the linky up early. If you have a project that you are currently working on and would like some feedback, write a post about it and link it up here. Then after you have linked, check out a few of the others and

kindly

offer your opinion on maybe how they could complete the project. Here are some examples:
How do you think this outfit looks best? Any opinions? I put it on the other day, and with the options couldn't decide. I do know that I think the shoes look awful. Good thing I had some pics, I thought they looked good before this!
Or a DIY/crafty project:
What should I do with this 'S'? I decopauged it with an old book and can't decide where to go from here. What do ya think?
Or recipes?
I have chicken, mushrooms, and potatoes. Suggestions?
(I just made that up, I never have mushrooms)
Or anything else you can think of or would like advice on. There is so much inspiration out there and so many talented people it might just get you out of a rut, or help you put the finishing touches on a project, or just inspire your own awesome idea! If you are stuck on a project, maybe someone has been stuck before too and has a solution to share.

Let's share the creativity!!
Here are some ground rules:
1.) Make sure you are a follower of Ma Nouvelle Mode. If you already are, awesome! If not, make sure you drop me a note so I can say hi!
2.) Link up your blog post, not your blog so we can go directly to the post.
3.) Make sure you check out at least a few other blogs to see if you can offer any suggestions. The more the merrier!!
4.) Grab my "Projects in Progress!" button and post it on your blog, linky page, or sidebar so other can join along!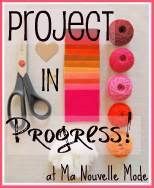 So link up! I can't wait to see all the awesome Projects in Progress out there!
I will leave the linky open throughout the week so we all can add and share. If you finish a project, get some help or advice you just love, or have some you want to share,
E-MAIL ME!
I will feature your project on the next linky party.