So as I mentioned before, probably more than once, I am totally inspired with all the bloggers out there and their crazy minds for all things creative. So I thought I would talk about another blog crush I have with a DIY-er for less,
At Home with K
. Not only is her blog
awesome
and a must read, she is super nice! She is actually featuring a project I did this Thursday, so be sure to check back then!! I just linked up today for
Terrific Under 10 Tuesdays
with two projects I have created. You should check it out too! She answered some questions for me that I would love to share with you so we can all get to know her a bit more!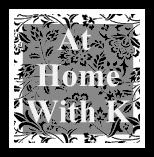 1) When and why did you start your blog?
I actually started blogging 3 years ago with my old blog. I shared my creative side plus my family life mainly for me to document milestones and for long distance family to read. Never in a million years did I think I would make so many friends through blogging. It has been a huge blessing to me and a wonderful creative outlet for this stay-at-home mom/night nurse. As time went on I decided to keep my family life private and my decorating styles changed. So in July 2010, At Home With K was born. Here I get to share with other bloggers and readers how to decorate/create on a budget. I'm having the best time!
SO cute! You should see the before!
2.) Where do you get a lot of your ideas, and/or what inspires you the most?
I find a lot of my inspiration from other bloggers and design magazines/catalogues. I really try to challenge myself to make something as cheap as I can with thrift/sale items. I'm a mom with a strict budget...and I know I'm not the only one. So I hope I inspire other moms out there as well that it's so easy to decorate on a budget when you think outside the box sometimes. Another person that inspires me is, Nate Berkus. I love that he includes in his designs thrift/trash finds. A guy after my own heart. :)
refurbished, and what a great idea for spring!
3. What are your goals for 2011? Bloggy/home/or otherwise.
My hope for my blog is to grow leaps and bounds this year. I would love someday to be well known enough to have sponsors and be recognized. Nate Berkus, are you reading this?!! LOL My blog is "the little engine that could", but I have faith that I will get there someday.
For my home, I have been on the quest to paint/update room by room. We have lived in our home for over 4 years and it's finally feeling like home with simple changes I have been doing in the last year. Before I was doing too much THINKING than DOING. If you dive right into your projects (no matter how scary they might be) then you get so much more done...instead of worrying what it might look like in the end. I have learned in the past year that it's good to take risks.
And I can't leave out my personal goals...I hope to always strive to be the best mommy there is for my 2 little boys and wife to my wonderful hubby. Sometimes I forget how blessed I am when struggles come my way...so I just need to focus how much God has blessed me with.
Signs made by Kindra
4.) What does a typical Sunday afternoon look like in your house?
Sundays are pretty mellow at my house. In the afternoon, you can find me napping because I work the night shift on the weekends. I know exciting, huh?! If not napping, then I'm playing with my boys or exercising.
Thank you so much Nalalia for featuring me on your blog! I really appreciate it!!
Flowers made by Kindra
I love it! As always, there is some awesome advice and tips in there! I am also a mom of two boys, how fun! Kindra is so super sweet and her blog is awesome. If you haven't already, go check it out!
By the way, this is not paid or sponsored in any way. I just featured her because she inspires me!